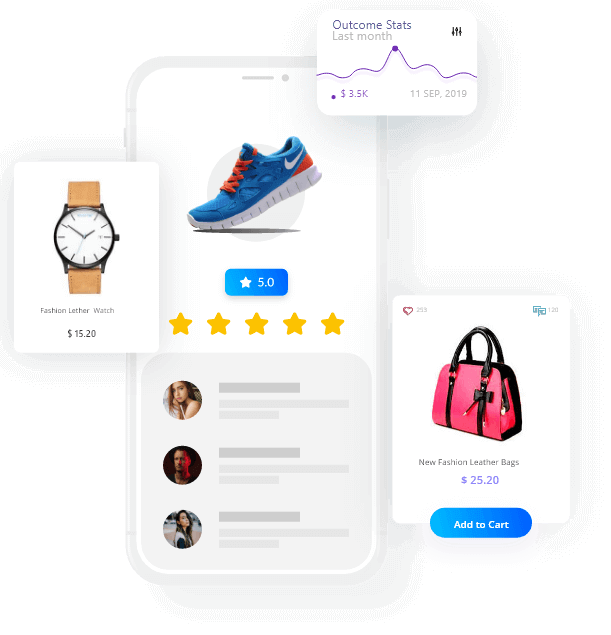 Powerful Ecommerce Platforms
to Make Your Customers Happy
Single Vendor Platform | Multi-Vendor Marketplace | Reseller Platform
Why Purchase Commerce?
Whether you're a start-up or large-scale enterprise level, our 360° best ecommerce software provides everything you need to start selling products or services online.
Headless Commerce
An ecommerce technology to give you development flexibility, faster time to market & increased online shopping cart system sales.
Lifetime License
Get everything you need to start selling online marketplace with a one-time payment and lifetime license subscription model.
Fully Customizable Platform
Customize the design and layout of your multi store ecommerce platform along with other things to match your business need.
Multiple Payment Gateways
Enable a quick checkout process with multiple payment options for maximum customer conversion on your ecommerce website.
Multilingual Platform
Sell across boundaries with a multi-language support system and provide better convenience for shoppers.
Mobile Apps & PWA
Target ideal customers on any device, be it a laptop, smartphone or tablet with the best mobile-friendly ecommerce platform.
Trusted by All Ecommerce Businesses — Start-ups to Enterprises
---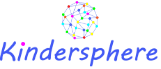 Seamless API Integration
You can easily connect several popular APIs with our ecommerce software to promote your store,
boost sales with multiple payment options and successfully run your business.
Payment Gateways
Purchase Commerce supports multiple payment gateways from all across the world.
Logistic Integration
Drive logistical efficiency by integrating several leading logistics APIs from your target region.
Our Ecommerce Platforms
The enterprise Ecommerce solution made simple with our next-gen most secure ecommerce platforms. We offer you the most scalable technology and highly customizable themes to power up your apps and create future-ready multi store ecommerce platform.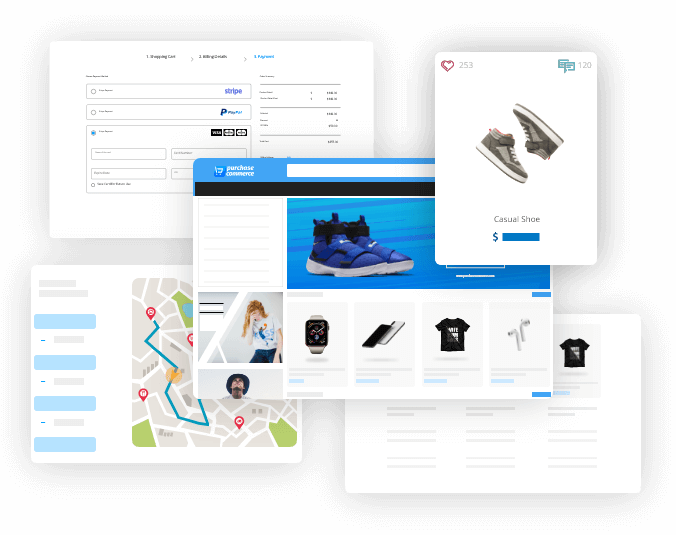 Single Vendor Shopping Cart Software
Are you thinking about to start the best ecommerce website to sell your products? Our next-gen professional ecommerce shopping cart software provides everything you need to build your online store that stands out with unique design and brand identity. What's more interesting? Our SEO friendly ecommerce platform is available as a one-time payment option which gives you complete control over your online store.
Multi-Vendor Ecommerce Marketplace Software
Ready to start the best multi vendor ecommerce marketplace like Amazon? You can establish a profitable online shopping cart software for small business with our multi-vendor shopping cart platform that is designed with the best business model. Our multi vendor marketplace ecommerce platform helps you easily manage multiple vendors with feature-rich interactive dashboards to stay on top of your ecommerce business with fully supported high-end features.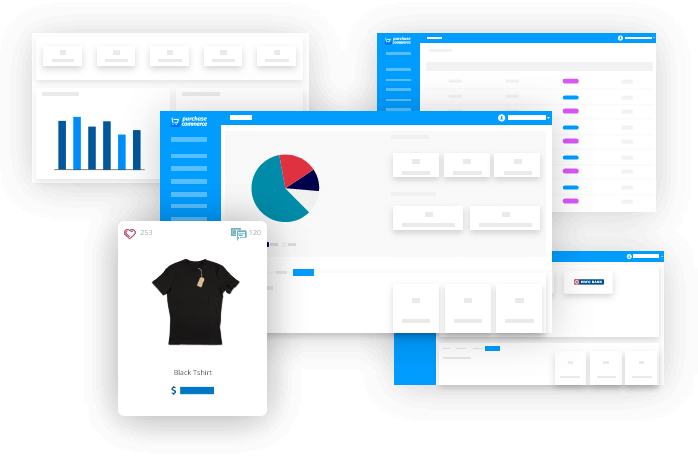 Headless Commerce
Purchase Commerce offers headless commerce marketplace software platform, which allows you to decouple the backend systems from the front-end using API-led approach. This headless architecture approach enables more customization and creates freedom for your ecommerce business growth.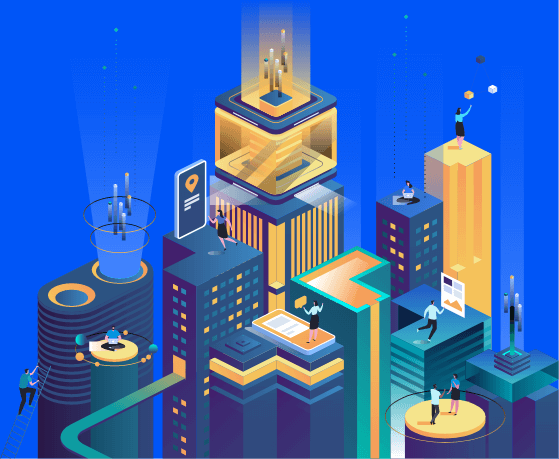 Loosely Coupled Architecture
Our best ecommerce shopping cart software is built with loosely coupled architecture which enables the ecommerce platform to be elastically scalable. It brings in greater reusability and easier maintainability for your ecommerce website.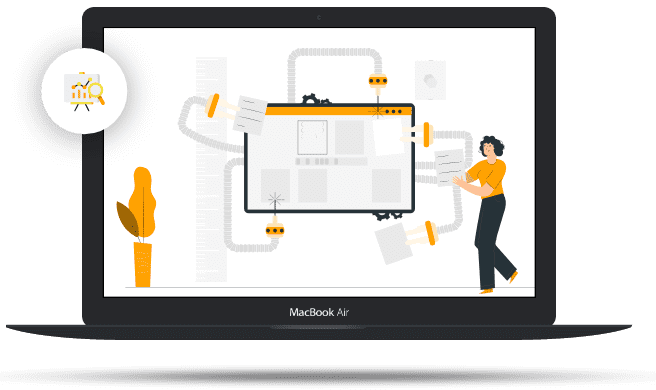 Angular-Storefront
Our best ecommerce software's storefront UI, admin UI and vendor UI are built using Angular 7. Also, the next-gen ecommerce platform uses Angular Universal to make the web pages SEO Friendly.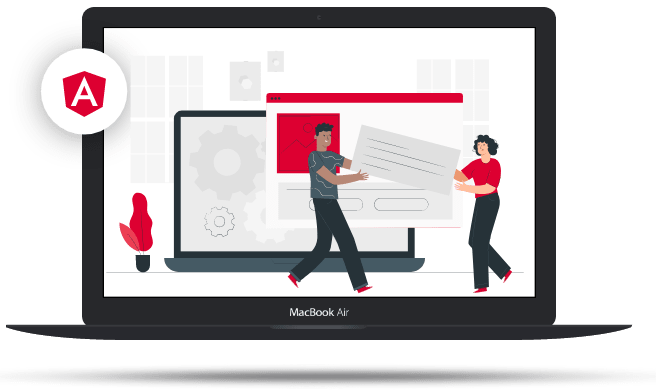 NodeJs – Middleware
Our best SEO online shopping cart platform uses RESTful API design with NodeJS/Express Framework as it is well-maintained and secured consistently to meet the increasing requirements.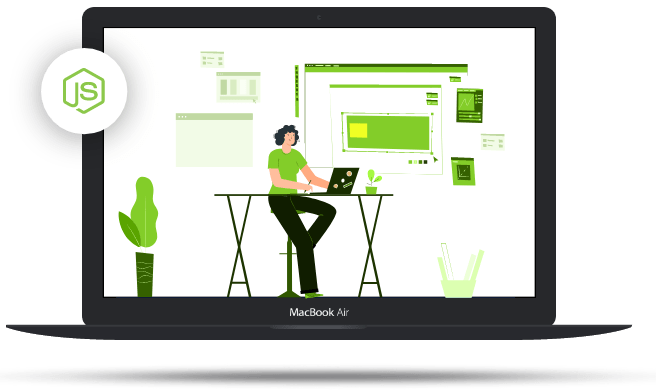 Database (MariaDB/MongoDB)
In our ecommerce store software, the primary and secondary MariaDB databases are isolated for transaction and reporting function. These databases can be located on a different server.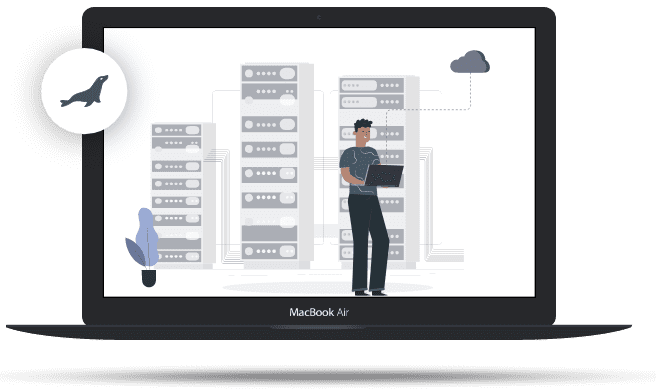 Cloud-friendly infrastructure
Our ecommerce shopping cart solution requires only a minimal setup in order to be deployed on a highly compliant cloud infrastructure like AWS, Google, Digital Ocean, Microsoft Azure.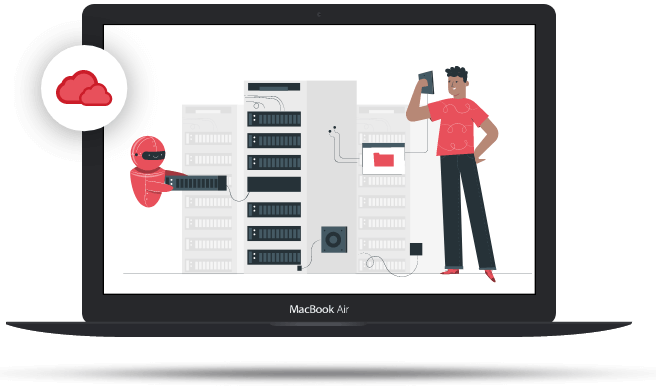 Mobile Ecommerce App Platform
With our online ecommerce software, you will also get a readymade ecommerce mobile app for Android and iOS platform that lets you convert more mobile shoppers into customers.
Progressive Web Apps (PWA)
To help you attract every mobile customer, we can provide you with easy-to-use Progressive Web Apps (PWA) that go in-sync with your web ecommerce marketplace solutions.
Hybrid Mobile Apps
Build and deploy cross-platform hybrid apps for your complete ecommerce solutions that deliver the combined experience of both native app and web app to your users.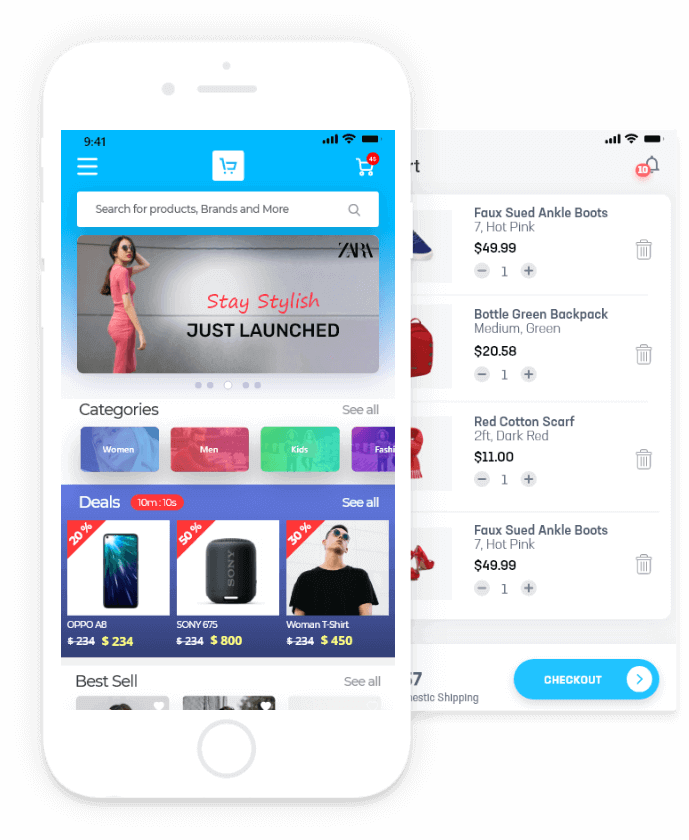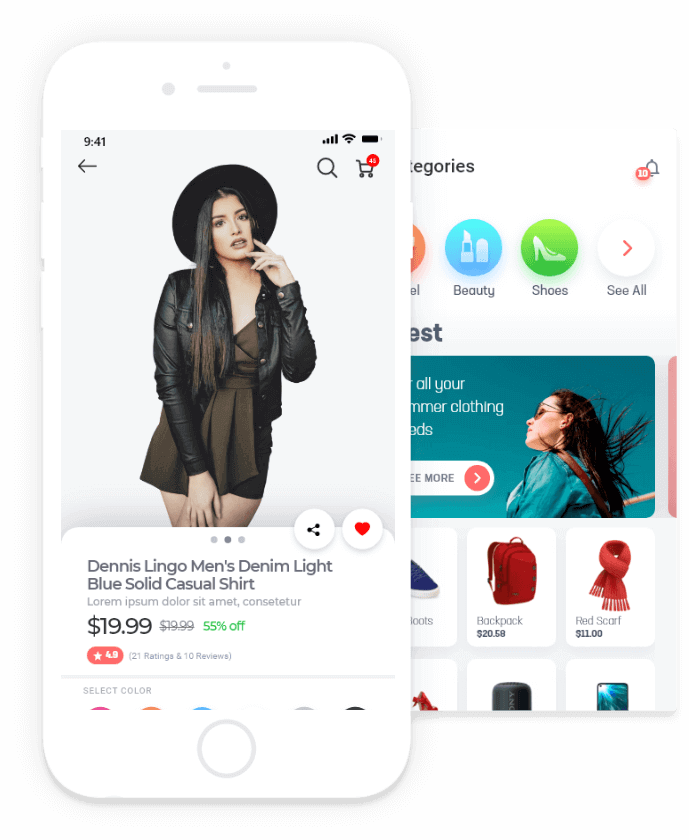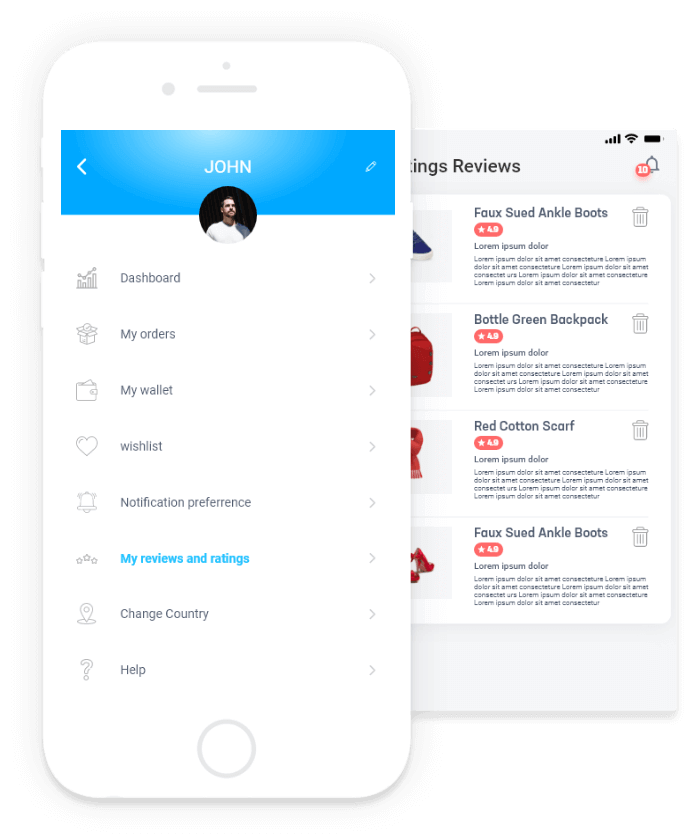 Fabulous Ecommerce Themes
Employed the latest technology and design practices, Purchase Commerce's readymade ecommerce themes are optimized to increase sales and provide visitors with memorable user experience. You can browse through these stunning ecommerce templates to choose the perfect one for your ecommerce business and make your ecommerce storefront pleasingly aesthetic.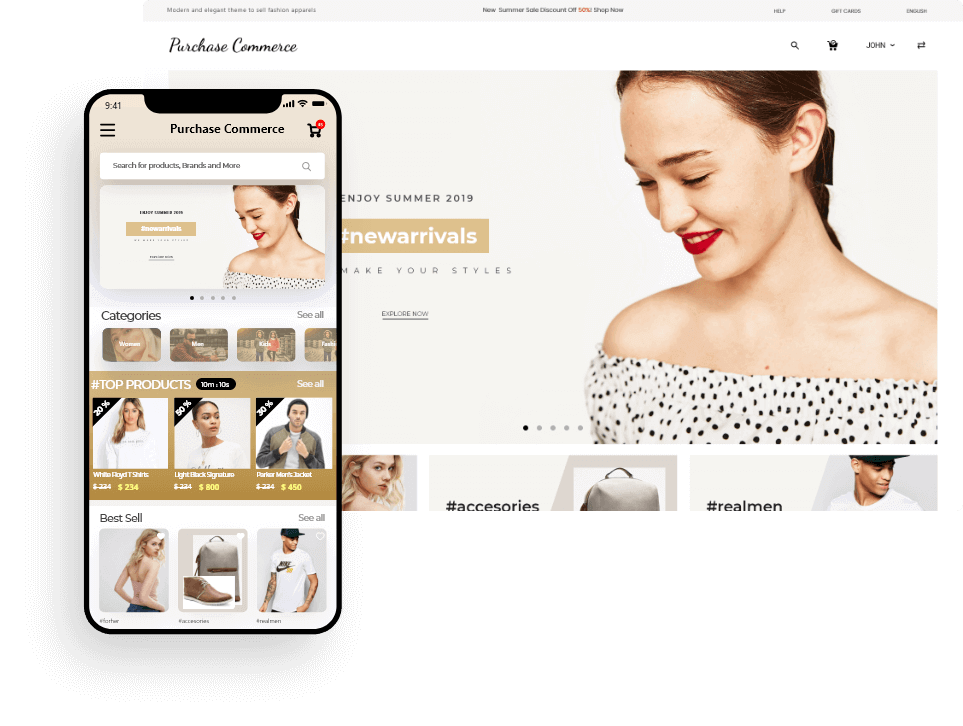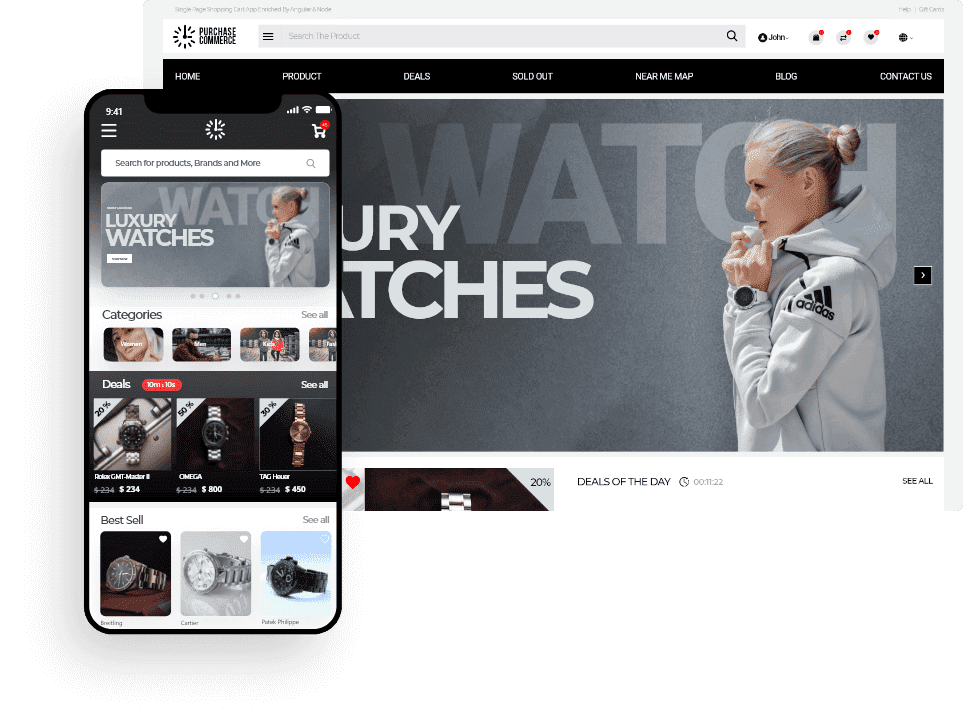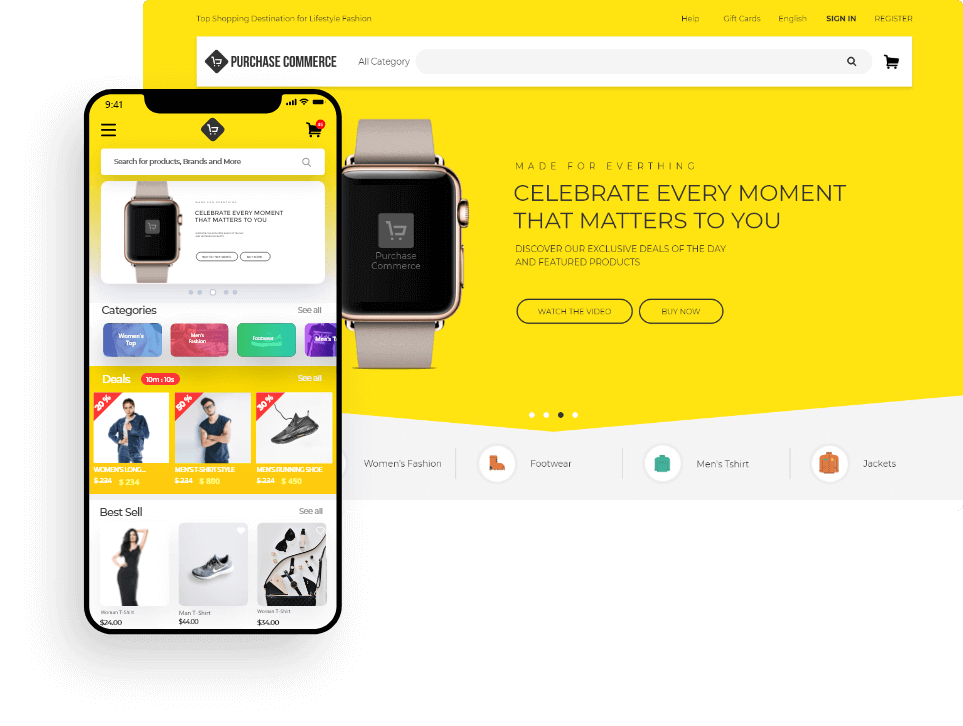 Our Platform Suits All Models
Apparels, Electronics, Pet Store and Royalty music & videos ecommerce marketplace solution- You can build all of them.
Purchase Commerce is a one-size-fits-all ecommerce solution that suits any business verticals or models. You will get a feature-rich online ecommerce platform that enables you to customize and scale your ecommerce business as and when needed. To fulfill your needs, our best shopping cart solution supports the below business models to begin your ecommerce journey.
B2B Manufacturers
B2C Consumer Goods
B2B Distributors and Wholesalers
Service Marketplace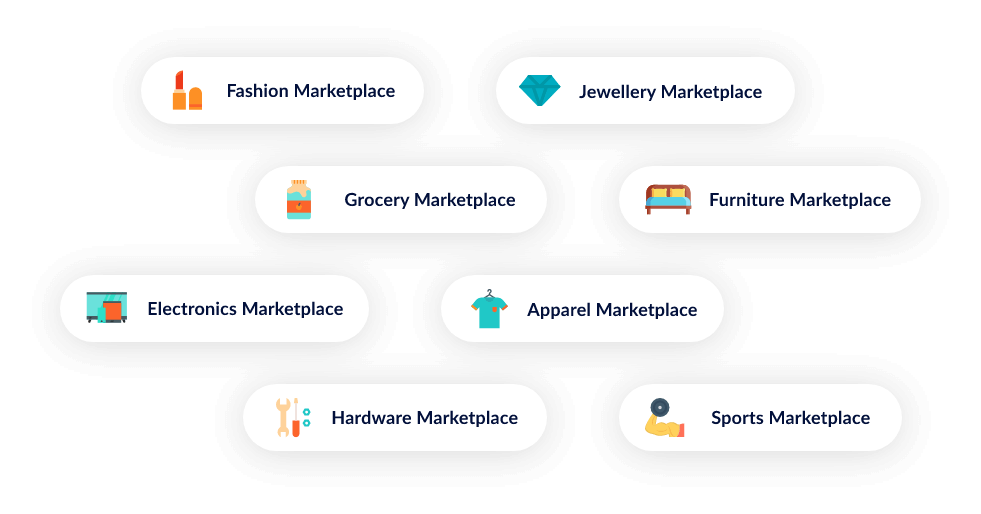 Excellent Support & Project Handling
You will experience a smooth communication with us since we provide top-notch online shopping cart service & support to handle all your requests and support your business growth.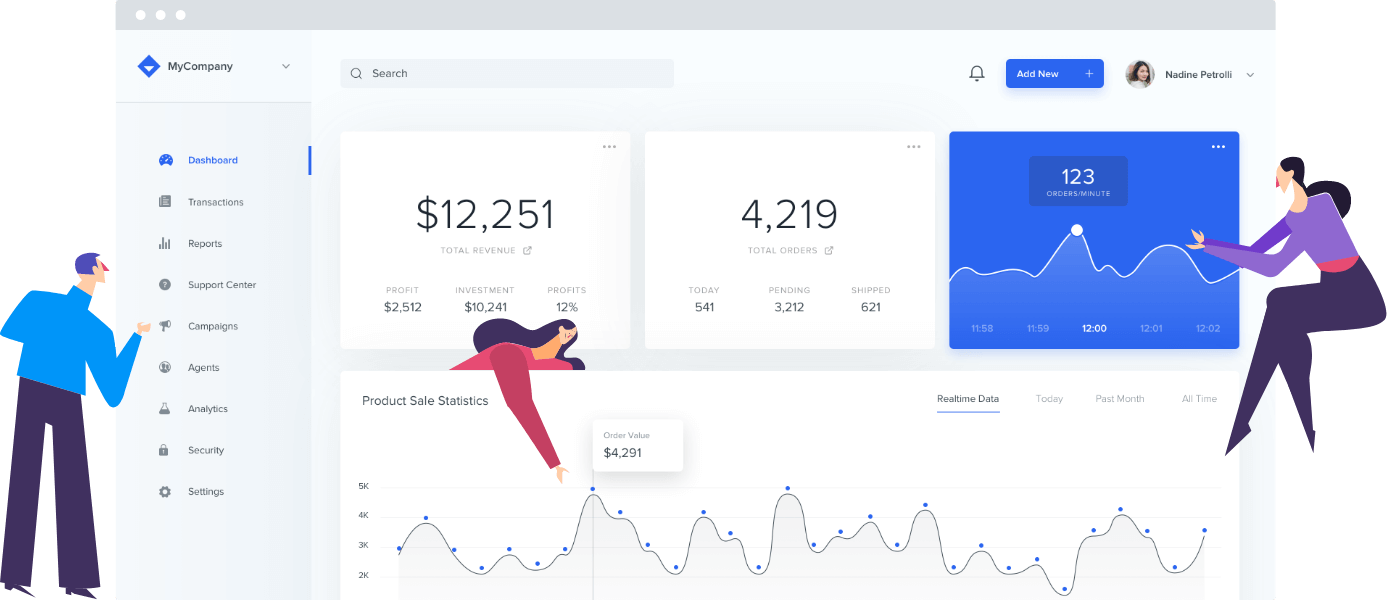 Global Support
Our global support team provides quality services at any time to clarify your queries about our platform through phone, email, etc.
Dedicated Project Manager
You will get timely updates of your project with the help of our dedicated project manager who acts as a one-point of contact.
Annual Maintenance Plan
If you wish to get more support for a longer period, you can rely on our AMC plan to meet all your ecommerce business needs.
Customized Design to Build your Unique Brand
You can change the look and feel of our shopping cart solutions to match your brand identity with the help of a flexible design and layout that is available in Purchase Commerce.
You can also get access to our ecommerce developers, who can work very closely with you to build your dream online store.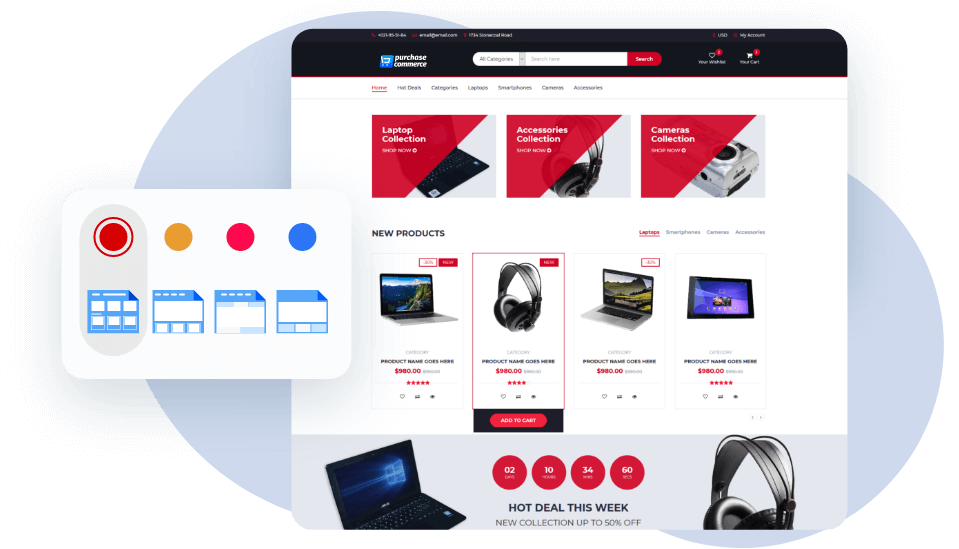 Looking for valuable ecommerce tips to boost your business?
Get the best tips and insights to establish your ecommerce site profitably